March 9th, 2023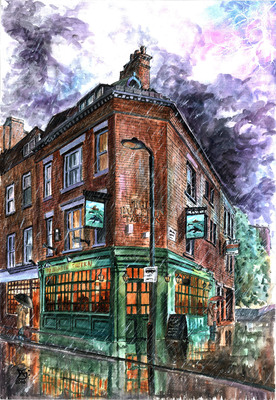 Discovering this Iconic Pub
One day walking by Red Lion St. under the raining in a quite stormy evening I saw this pub in the corner and immediately like the image, so I decided to take a photo to then painting it. The storm and the warm but mysterious light coming from inside make me feel curious about this building. I return some days after to take some sketches and even I went inside to see it. After some time I researched the history of this pub and I was impressed to know about this building.
An Old pub with a ghost history
The original pub was destroyed by a zeppelin bomb in 1915 and was subsequent rebuilt. Three customers were killed in the explosion, and, by the end of that night, the pub was nothing more than a heap of rubble. Prior to the commencement of the rebuilding, however, the rubble of the previous building was combed through and the pub's old clock was discovered, somewhat battered and scarred, but, otherwise, reasonably intact. The clock's hands were frozen at 10.40pm, the exact moment when the bomb hit the pub with such devastating consequences. The decision was, therefore, taken to place the clock on a wall inside the rebuilt tavern, and this was duly done.
The pub today is still working and in an area that is mainly dedicated to catering for the needs of weekday office staff. But, when the last customer has gone and the staff is busily tiding away the debris of another day, they occasionally feel their attention drawn inexplicably to the old clock and hear a soft mournful whistling that gets lower and lower until once more all is quiet. . .
The oldest record dates from 1805/William Game, Dolphin, Red Lion street, Holborn/../../Holdens Directory.